In this section, we'll describe the customer experience. We'll go through the:
To begin the journey, customers click the 'Free Credit Check' button to launch the tool. We recommend placing the button before the finance calculator for better visibility.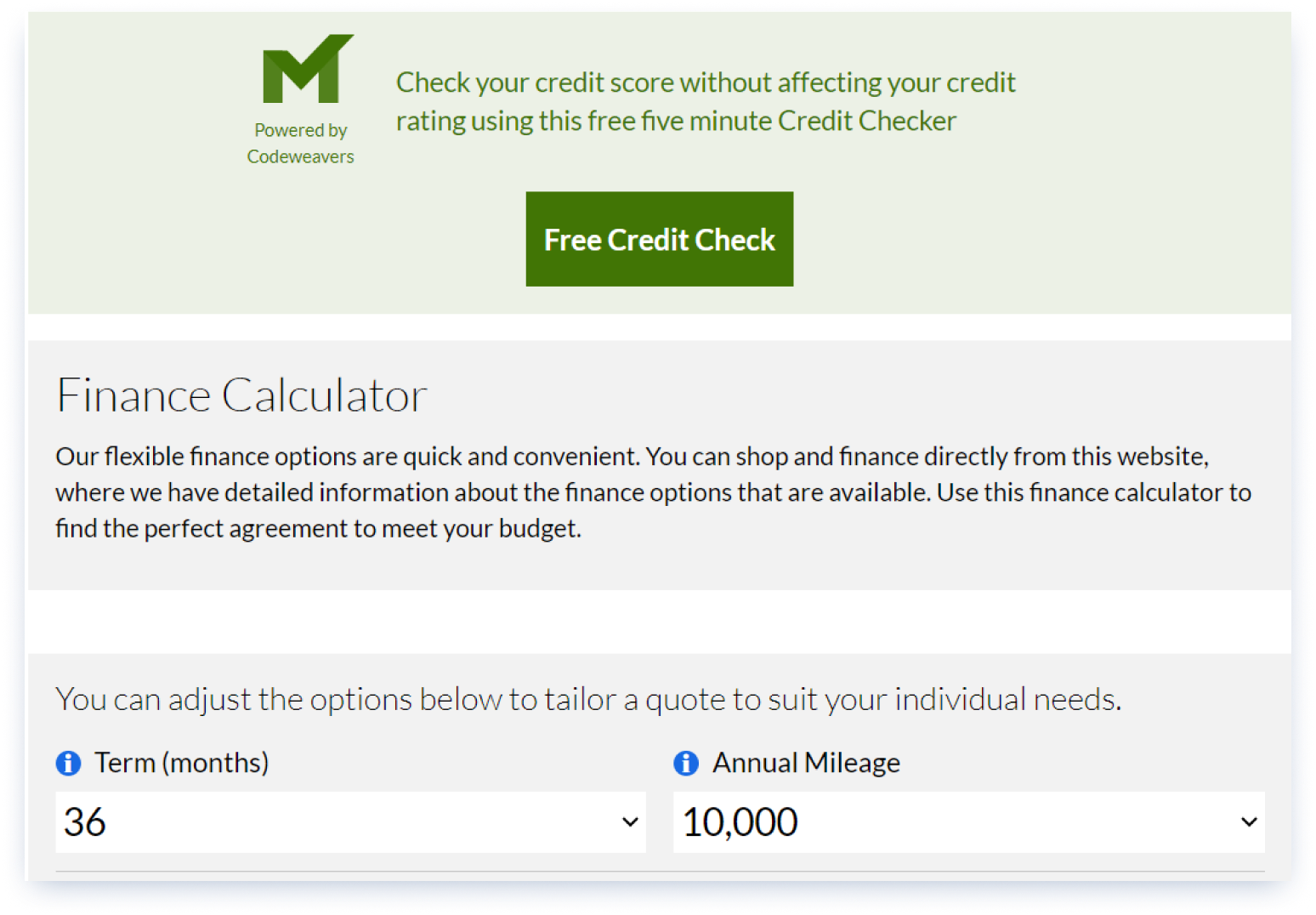 Landing page.
Here are the landing page's key features.
Deal summary — It contains the details of the vehicle the customer has selected and a quote on the vehicle if they have received one.

 

Privacy Policy — This is configurable to meet any compliance needs.

 

Link to the full privacy policy; it must be accepted for customers to proceed.
Application page.
After reading and accepting the privacy policy, customers are prompted to fill in the application form.
The form includes the fields required to perform a soft credit check, for example, their names, contact details and address history.
It takes less than two minutes to fill and is helpful in reducing drop-offs across the journey. 
After completing the application, the customer clicks 'Submit'.
We capture up to three years of address history. If the customer only has one year at their current address, we include a previous address block to gather information on their prior addresses.
Credit score page.
After submitting their application, customers see their credit rating and an explanation of how lenders view their borrowing capacity.
Though Experian has five ratings (Excellent, Good, Fair, Below Average, and Bankrupt). The customer is only shown four ratings:
'Excellent' rating.
With such a score, a customer is very likely to be approved for financing; they can contact you for advice or continue the journey independently based on what's provided on your website.
Let's say your customer is happy to proceed independently— if your website provides Codeweavers Checkout, customers can then make a reservation, apply for finance, and/or buy the vehicle online.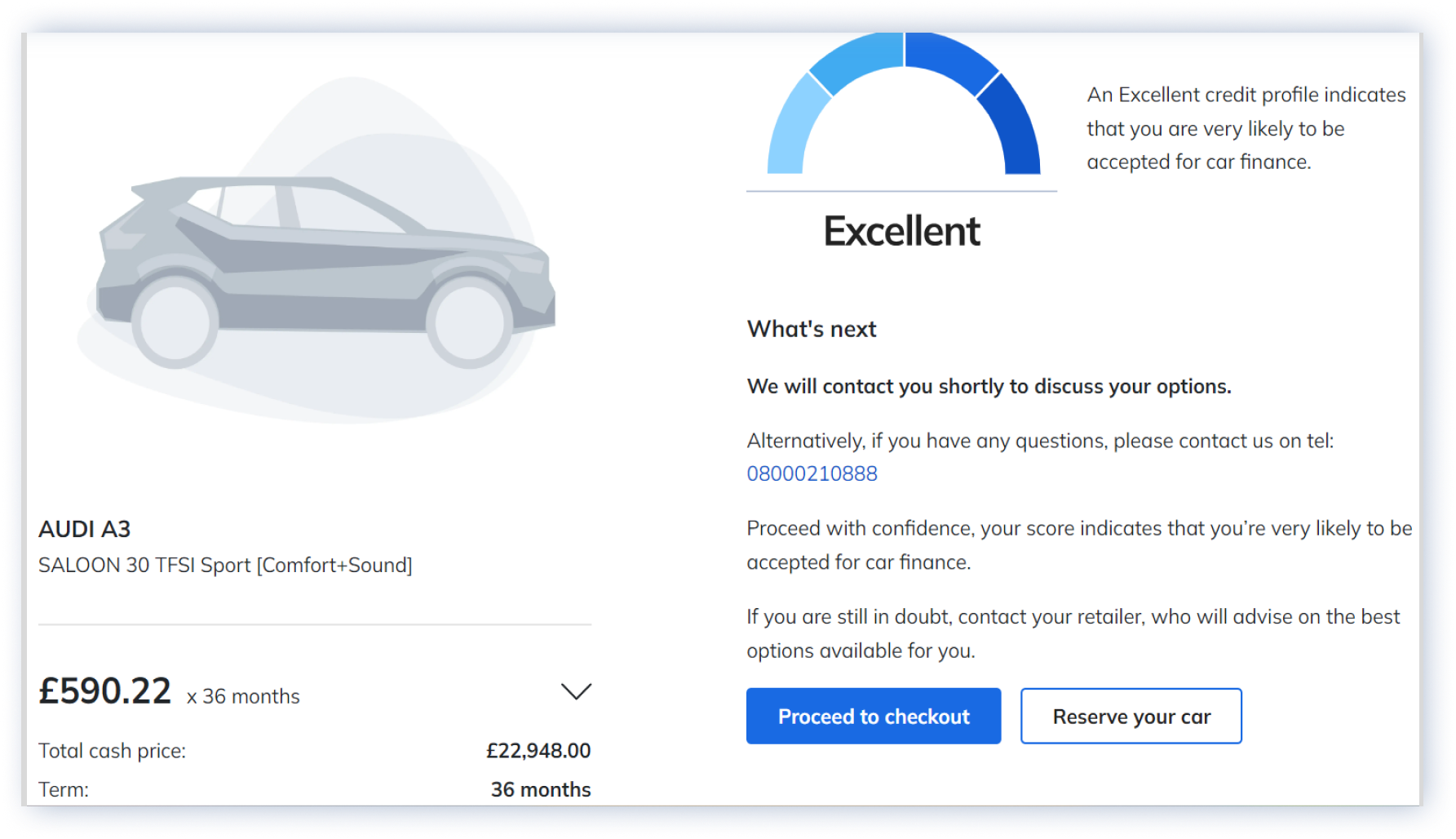 'Good' rating.
Customers with a 'Good' rating are likely to be accepted for finance and can proceed to checkout, or contact the retailer if they have questions.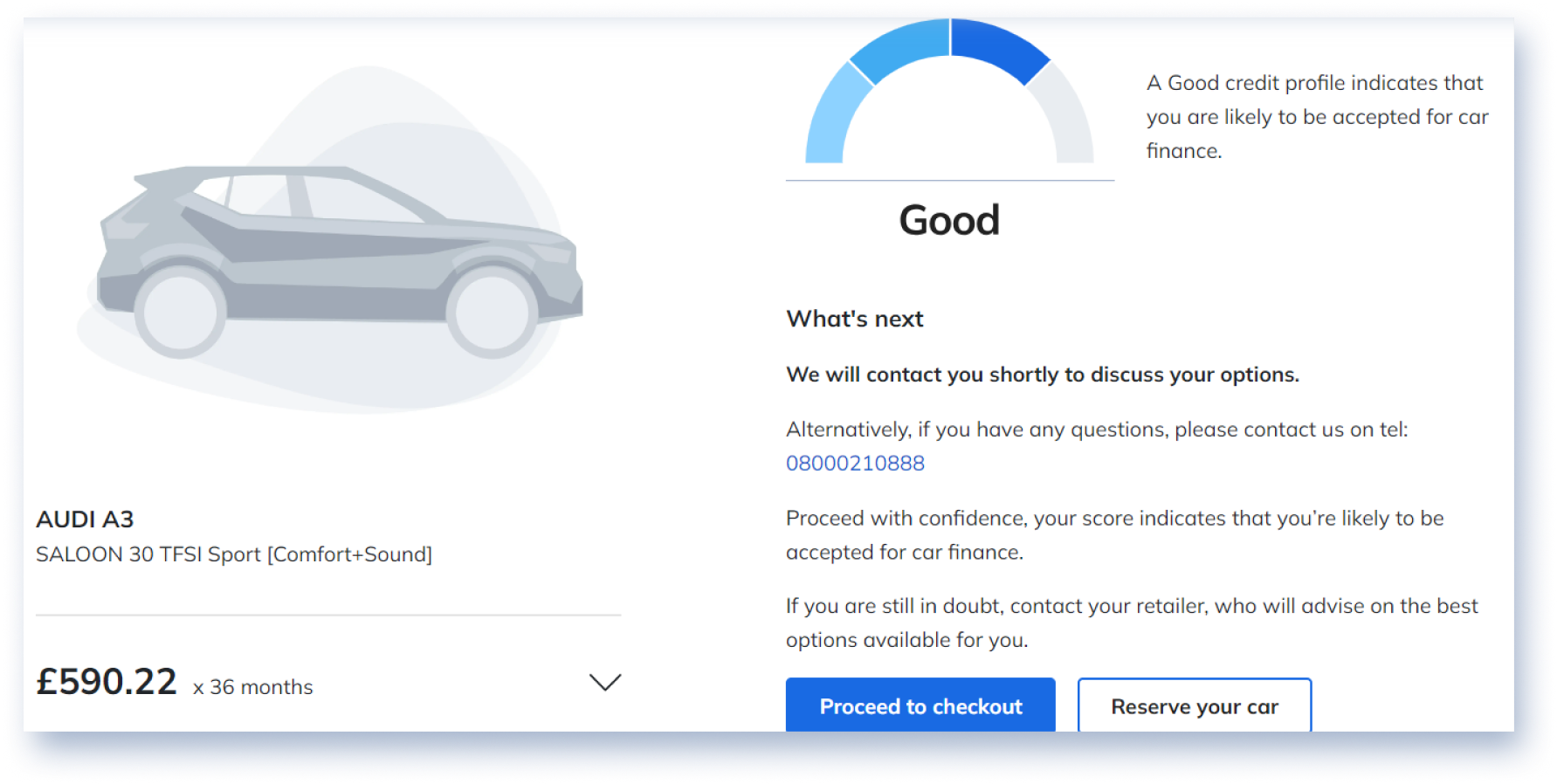 'Fair' rating.
Customers with such scores may be accepted for finance. Customers can proceed, but are encouraged to get in touch with you directly to discuss options.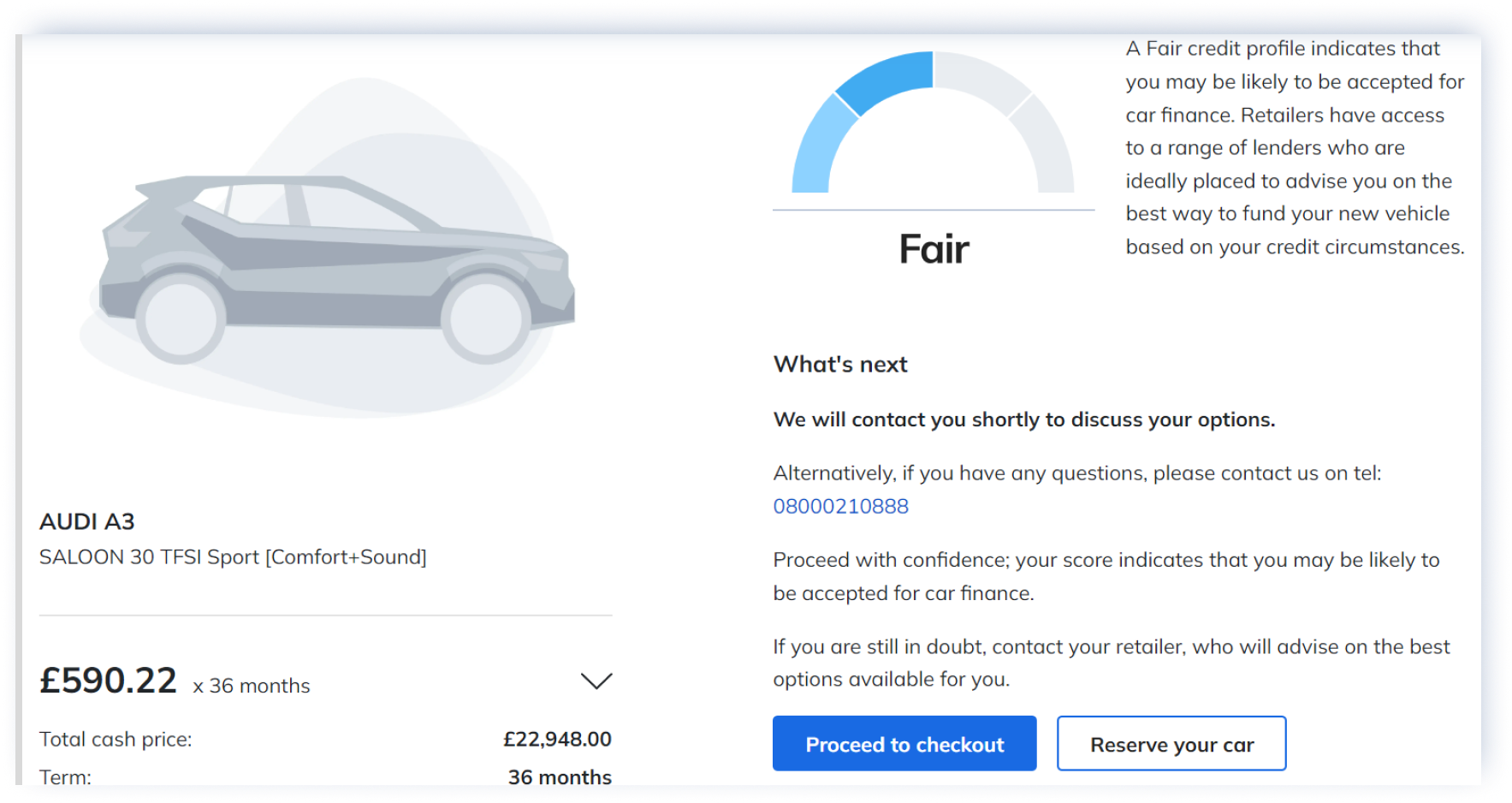 'Below Average' rating.
Customers with a 'Below Average' may be accepted for finance and can proceed, but are encouraged to contact you to see if other options are available.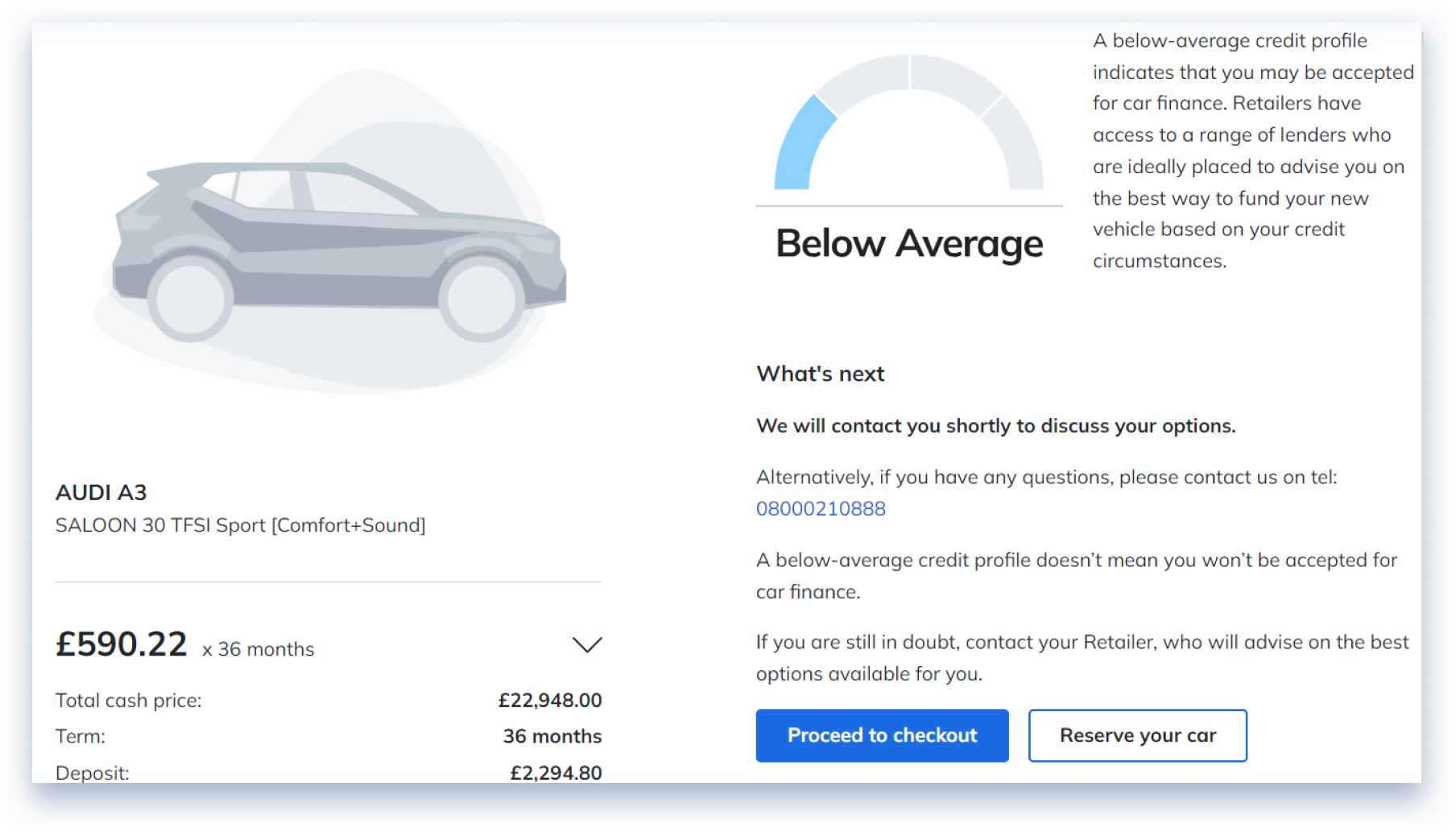 Next up, '4. Managing MCC leads'.