In this article, we'll be going through the steps in creating a quote from Dashboard. Need a refresher on Dashboard? Find it here.
Step 1: Click On 'Create Quote'.
When you log in to the platform, you are taken to Dashboard. This is where all the features of the platform are displayed. At the top of the page is the 'Welcome back' banner with your name and that of your company. 
Right beneath your company's name is the 'Create Quote' button. Clicking on this is one way to begin a quote.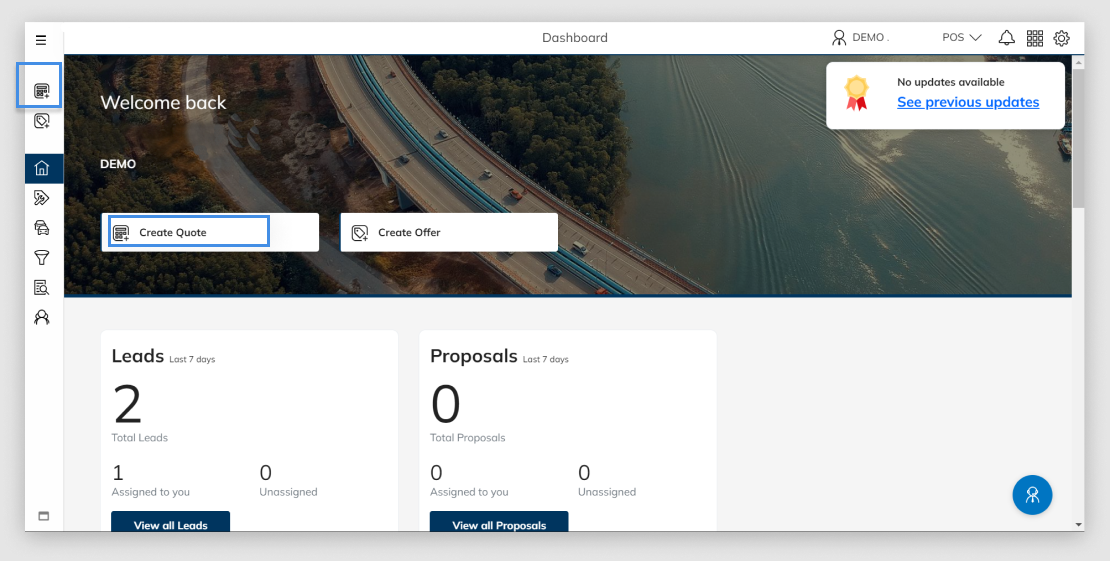 Another way is by clicking on the calculator symbol on the left-hand panel of your screen. As you may have noticed, when the navigation panel expands, 'Create Quote' is next to the calculator symbol.
Step 2: Choose Customer And Vehicle Type.
After clicking on the Create Quote (or calculator) button, you will arrive at the 'Create Proposal Options' page. 
This page asks you for the customer type, e.g., a private individual, a corporation, etc.
Below this, you select the type of vehicle the customer wishes to finance. You can select a car, bike, LCV or a non-motor asset.

Step 3: Select The Vehicle.
After clicking on the Create Quote button (or the calculator icon), you will arrive at the 'Create Proposal Options' page.
The first thing to do is select a vehicle. Click on the button on the right that states 'NO VEHICLE-Please select a vehicle'.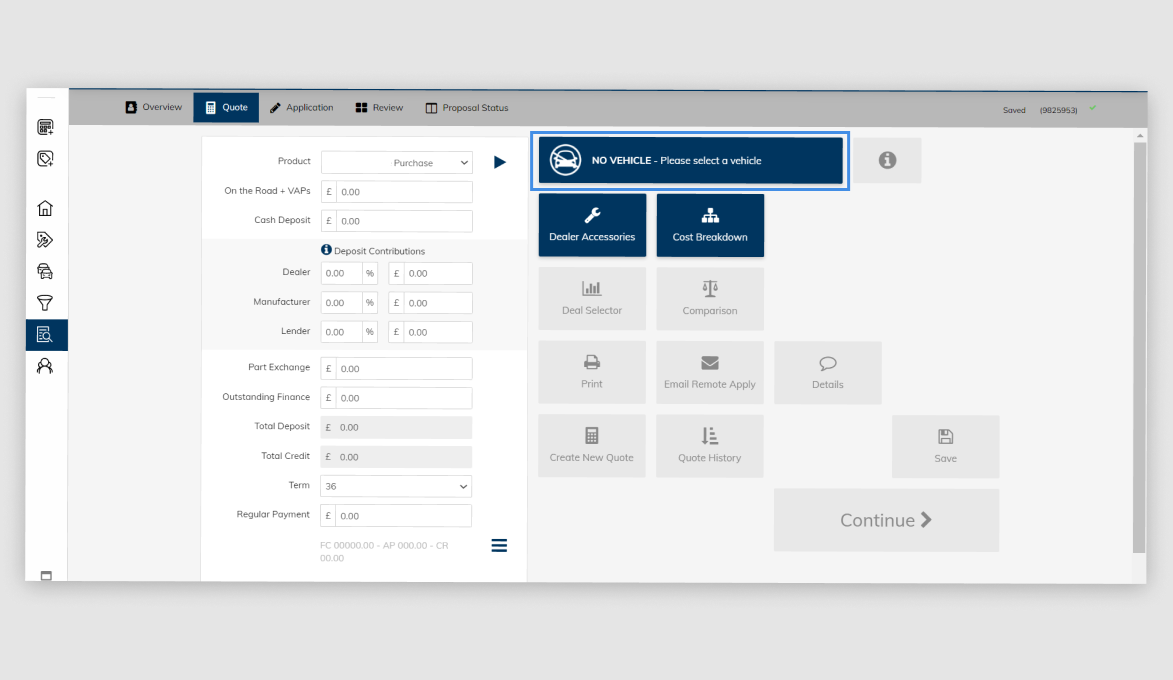 A pop-up screen appears with several ways to select a vehicle. Options include VIN, VRN or even via a manufacturer's logo.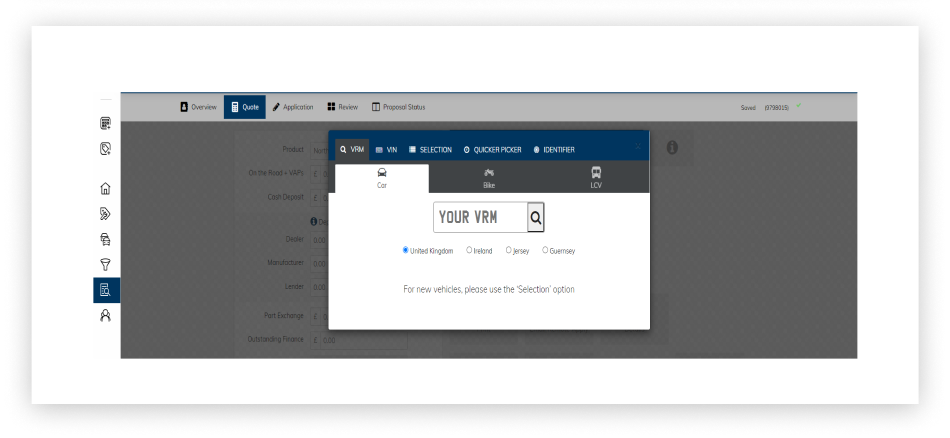 Step 4: Input The Customer's Choice Of Finance.
The customer's choice of finance and payment terms are next.
To the left of your screen, you will see a dropdown box next to 'Product'. Click on the arrowhead within the box to view the types of finance available. 
Further down the page, you include the other relevant information, such as the 'On the Road' price, cash deposit etc. In the second-to-the-last box, you have a dropdown box next to 'Term' where you choose the time length for the finance product.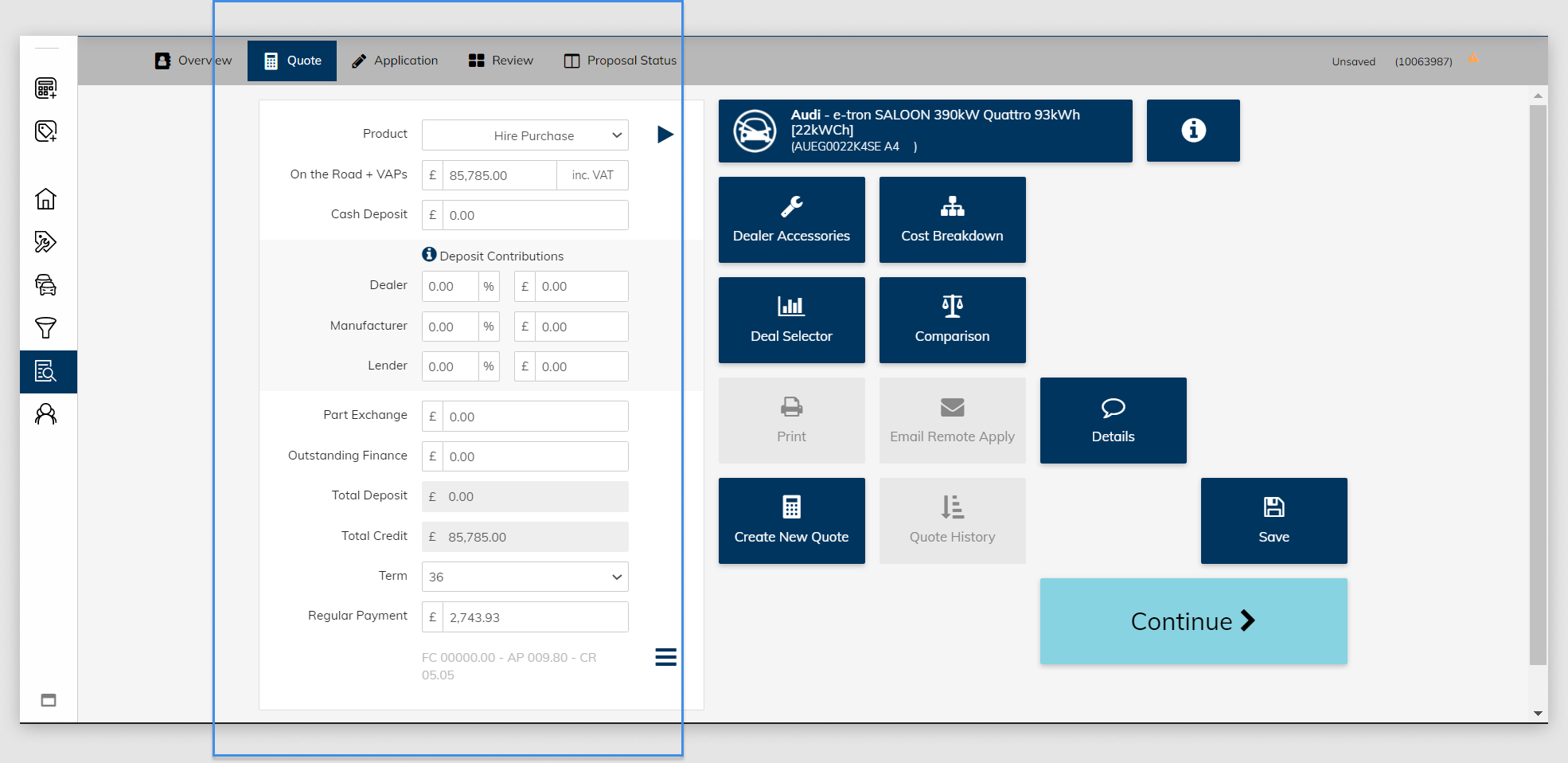 When you complete this section, you will notice that the tiles on the right-hand side become active, i.e., they are no longer 'greyed out'. These tiles allow you to carry out further actions. For example, clicking on 'Dealer Accessories' enables you to add extras, such as floor mats, roof boxes, etc.
Should the customer not wish to proceed further at that moment, click on the 'Save' tile. The quote is saved to 'Leads' and can be revisited anytime.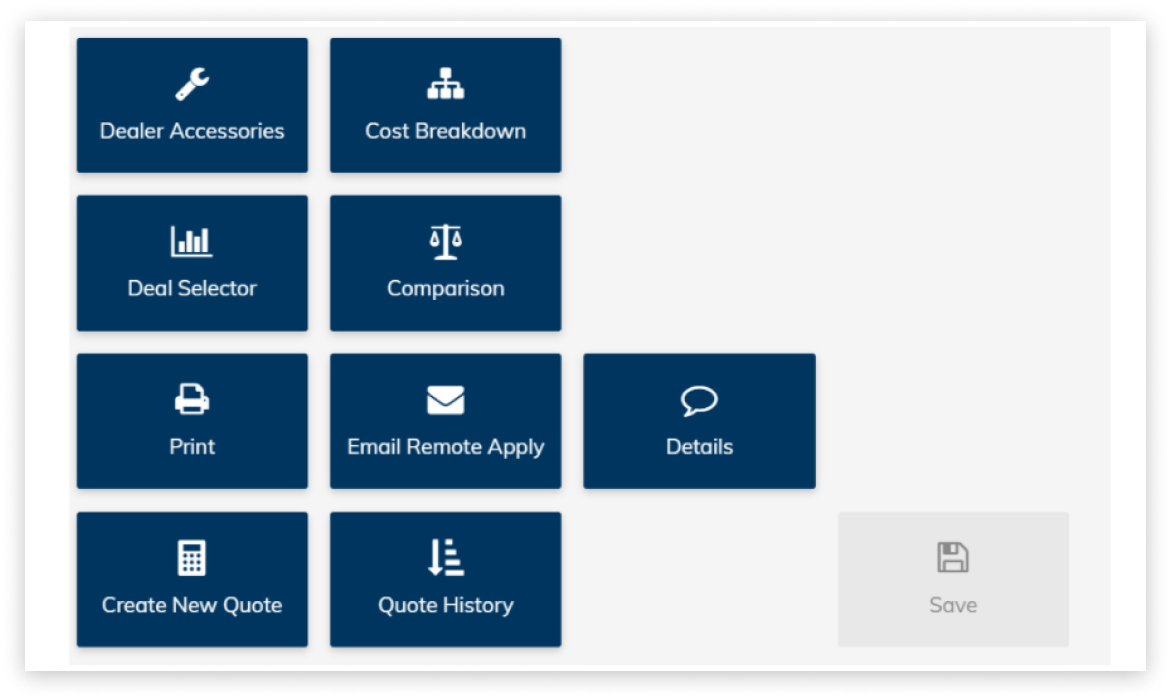 Congrats. You Have Just Created A Quote. The next stage is the Proposal (the Finance Application).
Unsure about some terms? We have provided definitions here.